Cyberbullying Statistics and FAQs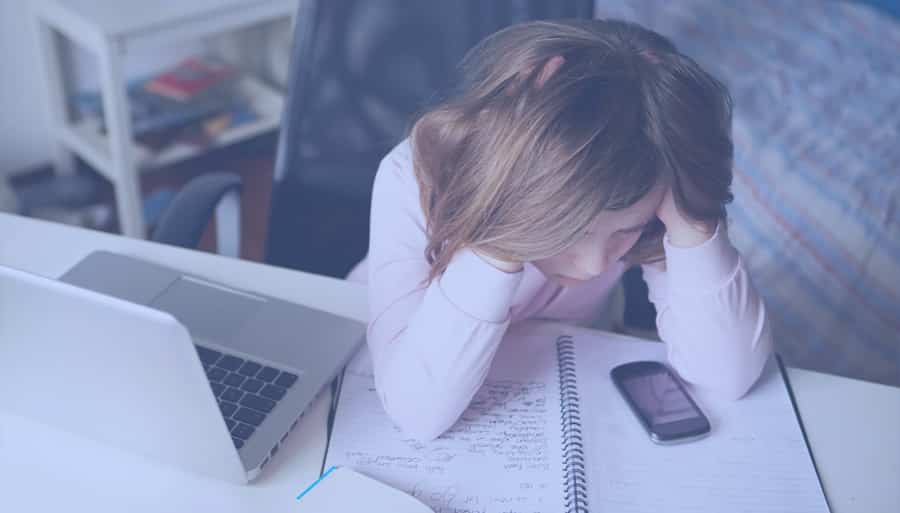 Cyberbullying can take many forms and though it is by no means a new occurrence, there is a steep rise in cases worldwide. The consequences of cyberbullying include long-term damage, and in many cases, these incidents go unreported. Cyberbullying statistics have long been a point of concern but are now coming into sharp focus with more people spending time online. 
Cyberbullying Statistics (Editor's Choice)
Cyberbullying and verbal abuse have increased by 70% amid the pandemic.
More than half of children receive hateful or discriminatory messages online.
Children who are cyberbullied are 12 times more likely to commit suicide.
Cyberbullying mostly occurs on Facebook.
Girls are more likely to become victims of cyberbullying than boys.
Ages 18-25 are more likely to experience cyberbullying.
Children who are cyberbullied are at a much higher risk of feeling depressed or anxious.
8% of all adults in the US believe they were cyberbullied because of their religions.
Cyberbullying Statistics
1. There has been a 70% increase in cyberbullying and verbal abuse during COVID-19.
A recent study analyzing millions of websites, apps, and social media platforms has found a massive upswing in the number of cyberbullying cases as cell phone usage statistics surge during the pandemic. There has been a 900% rise in hate speech towards China and Chinese on Twitter only, while gaming platforms have witnessed a 70% increase in toxicity among teens and children.
(L1GHT)
2. 20% of teens had a cyberbully pretending to be someone else to get personal information.
Cyberbullying stats show that impersonating is among the most used tactics. 17% of teens have reported being victimized by someone lying about them, while 13% have found out that someone was using their name and photos to communicate with others. Numerous research proves the web provides fertile soil for anonymous cyberbullying.
While it's hard to track people hiding under a fake online persona, you might be able to uncover their identity if your child is bullied through phone messages or calls. Reverse phone lookup services allow you to track anyone by phone number.
(NCPC)
3. More than half of all children get hateful or mean messages online.
Age-old problems of hate speech, spreading rumors, and name-calling have taken a new form with the rise of social media platforms. As many as 59% of children on the internet receive messages intended to hurt and threaten, and many of them admitted repeatedly sending these messages over extended periods. Stats on cyberbullying disclose that 42% of teens report having been name-called online or through text messages, while 32% said they had rumors spread about them.
(Pew Research Center)
4. 57% of people who intervene can stop cyberbullying incidents within 10 seconds.
Research shows that mindful intervention and guidance can encourage children to stand up against adverse online behavior and minimize the effects of cyberbullying on themselves and their peers. Supporting their better nature and promoting a sense of unity among other children in a safe environment positively affects them, as statistics on cyberbullying show.
(Stopbullying.gov)
5. 9% of public schools in the US said cyberbullying affected the school environment.
15% of schools surveyed reported at least one incident occurring among the students. Among these schools, 8% said they have been allocating staff resources to combat the negative effects of cyberbullying.
(Institute of Education Sciences)
6. 83% of cyberbullied students have also been bullied at school.
While there are noticeable differences, cyberbullying vs. traditional bullying statistics demonstrate a significant overlap. 69% of the students who admitted bullying others on school grounds also bullied peers online. Researchers note that causes and correlates of bullying influence behaviors across environments — what causes someone to be an attractive target or pushes them to be cruel at school also causes them to appear vulnerable or act in similar ways online.
(Science Daily)
Cyberbullying and Suicide Statistics
7. The 2007 Megan Meier suicide is one of the earliest documented cyberbullying cases.
One of the earliest incidents of suicide due to cyberbullying was that of 13-year-old Megan Meier, who ended her life after the mother of one of Megan's former friends, bullied her on MySpace, impersonating a 16-year-old boy named Josh. Online predators statistics also indicate that most predators hide under a fake account to manipulate the victims and possibly initiate a real-life meeting. The Megan Meier case stirred significant reactions from the media and prompted Florissant, Missouri, to pass a law against cyberbullying in the aftermath, with many states following suit. Though there aren't any cyberbullying federal laws, 48 states have individual laws against bullying online and offline.
(Megan Meier Foundation, Business Insider)
8. Those who experienced cyberbullying are 12 times more likely to have suicidal thoughts, cyberbullying suicide stats show.
While the scope of the research, which included 96,000 children and adolescents, has proved the link between cyberbullying and suicide, a few key questions are left unanswered — such as how to address the problem without triggering and the long-term mental health effects of online harassment for survivors.
(Medspace)
9. About 35% of teenagers inflict digital self-harm.
Digital self-harm, also known as self-trolling, is targeting and harassing oneself online, cyberbullying facts show. Either from a ghost account (an anonymous or fake account) or through one's own, the victim typically seeks ways to post hurtful or abusive content or comments about themselves. Stats further demonstrate that those victimized by others online are more likely to engage in digital self-harm that can eventually lead to suicidal thoughts.
(What Is)
Cyberbullying on Social Media Statistics
10. 75% of cyberbullying incidents happen via Facebook.
Cyberbullying on social media occurs on virtually all major platforms, but Facebook, by and far, is the prime environment in which it happens. Twitter and Instagram cyberbullying follow with 24% each, with YouTube not far behind with 21%. Despite its growing popularity among teens, TikTok only sees 9%.
With the rising popularity and impact of social media platforms, employers are increasingly relying on social media background check companies to track potential employees' online behavior and ensure they invite bright and kind people to their teams that won't jeopardize their culture and reputation.
(Statista)
11. It took Facebook 13 years to tackle the issue of revenge porn.
Social media cyberbullying statistics note that revenge porn, or distributing sexually explicit images of individuals without their consent, has become even more of a significant issue as it is now ridiculously easy to circulate images through social media. Despite its extraordinary growth since its launch in 2004, Facebook introduced the appropriate regulations in 2017.
(The Guardian)
12. Instagram began to combat the promotion of self-harm after nine years of its launch.
Instagram had a collection of hashtags and accounts depicting and documenting self-harm at a worrying volume before introducing new regulations. After a UK teen's suicide in 2017 and the platform's indirect involvement with her situation, many eyebrows were raised about Instagram's attentiveness to its content, prompting it to adopt stricter measures and help improve internet safety statistics.
(TechCrunch, The Guardian)
Cyberbullying Victims Statistics
13. 26.6% of LGBTQ high school students have experienced cyberbullying.
Cyberbullying rates vary depending on the sexual identity of teenagers, with only 14.1% of heterosexual students reported being harassed online in comparison. For those who are sexually active, 17.8% of students who engage in sexual activity with the opposite sex came out as victims of cyberbullying — the rate is 32.4% for those who had sexual contact with the same sex.
(CDC)
14. 60% of girls and 59% of boys have experienced cyberbullying.
Though cyberbullying gender statistics show little difference among boys and girls, girls typically suffer certain types of cyberbullying more than their counterparts. 39% of girls said they'd experienced someone spreading false rumors about them online, compared with 26% of boys. They are also more likely than boys to report receiving explicit images they didn't ask for, 29% and 20%, respectively.
(Pew Research Center)
15. Young adults from 18-25 experience the highest rates of cyberbullying.
Cyberbullying adults statistics suggest that the age range of 18-25 gets targeted most frequently, covering the demographic that arguably spends the most time online. Two out of five young adults have stories of cyberbullying, and though it's not as prevalent as that experienced by teenagers, it's not far off. Some examples of cyberbullying among adults include racism, discrimination, comments about appearance, and political bullying.
(Psychology Today)
16. Parents with children aged between 14 and 18 reported a 60% rate of bullying.
Recent studies relating to bullying suggest that it affects as many as 60% of children between 14-18. Bullying and cyberbullying age statistics also indicate that 47.7% of parents with children between 6-10 reported bullying, along with 56.4% of children between 11-13, 59.9% of children between 14-18, and 54.3% of children who were 19 and older. While school is the most common location where children experience bullying, statistics show it's widespread on social media sites and apps, online video games, emails, and elsewhere on the internet.
(Comparitech)
17. 8% of adult Americans believe they were cyberbullied because of their religion.
The research conducted in September 2020 showed a slightly higher figure than 2017, corresponding to 5% of all adults in the country. The groups that are more likely to attribute their harassment to their religious beliefs are Protestants and Catholics, with 23% and 15%, respectively.
(Pew Research Center)
Cyberbullying and Depression Statistics
18. Children who are cyberbullied are at higher risk of depression and anxiety.
They are also at higher risk of falling behind academically or even dropping out of school entirely because of their mental health problems. Different forms of cyberbullying have different consequences, and a once-off incident isn't likely to cause as much damage as being repeatedly targeted. Those who experience it in its most severe form, over more extended periods, are the ones who suffer the most psychological damage, facts on cyberbullying show.
(CDC)
19. Ten separate studies have confirmed the link between cyberbullying and depression.
Michele Hamm of the University of Alberta combed through a catalog of studies related to depression and cyberbullying and found 10 of them directly correlated the two. Even though this research is telling and heavily indicates that cyberbullying causes depression, more studies need to be conducted over longer periods to solidify their claims' legitimacy. Gaining a deeper understanding of this link may also lead to cyberbullying laws that factor in the long-term psychological effects.
(University of Alberta)
Global Cyberbullying Statistics
20. 33.5% of children in the UK experience bullying on mobile games.
The research showed that males and players from minority ethnicities were most likely to suffer from significant harassment. Nearly four in every ten teens reported being fairly or very upset by the experience — and most of them (49.3%) resort to their parents or caregivers rather than contacting gaming platforms (4.2%).
(Mary Ann Liebert Inc.)
21. 44% of previous child cyberbullying victims reported an increase in the phenomenon during COVID-19.
Germany had the highest share of all countries with 51%, followed by Italy and Spain with 50%, and Ireland with 48%. On a brighter note, teenage cyberbullying statistics also recorded a decrease reported by one-fifth of the children surveyed (22%). The highest drop in teenage cyberbullying at a national level was seen in Slovenia with 38% and Romania with 29%.
(Publications Office of the European Union)
Cyberbullying FAQs
Is cyberbullying illegal?
Most states have some form of law against cyberbullying, but there is no federal law in place. Some states have stringent laws against cyberbullying, while others are more lenient. Some suggest a federal law is the only way to curb the growth of cyberbullying statistics across the country.
Is cyberbullying a crime?
Yes and no. Whether or not cyberbully charges are classed as being a crime is entirely dependent on the state's laws. Each state has its own set of laws, so while it may be a crime that criminal background check companies can track and report in a state like California, the same incident would be judged differently elsewhere.
What are the consequences of cyberbullying?
There are many consequences to cyberbullying from a victim's perspective, including long-term psychological effects such as depression, anxiety, and even PTSD in extreme cases. Facts about cyberbullying indicate it has caused many students to suffer academically and even drop out of school.
How many cases of cyberbullying have been reported?
The exact number of cases reported for cyberbullying is complicated to ascertain as agencies, organizations, and authorities don't release these reports to the public. But it's widely accepted that over 40% of adult internet users have experienced cyberbullying at some point.
(Statista)
Which country has the highest rate of cyberbullying?
The three countries with the highest rates of cyberbullying are India, Brazil, and the United States. Though it is a global problem, it is far more prevalent in some nations than others, and these three are the worst offenders, according to cyberbullying statistics.
(Ceoworld Magazine)
Sources: L1GHT, NCPC, Pew Research, Stopbullying.gov, Institute of Education Sciences, Science Daily, Megan Meier Foundation, Business Insider, Medspace, What Is, Statista, The Guardian, TechCrunch, The Guardian, CDC, Psychology Today, Comparitech, Pew Research Center, CDC, University of Alberta, Mary Ann Liebert Inc., Publications Office of the European Union.