Connecticut Sex Offender Laws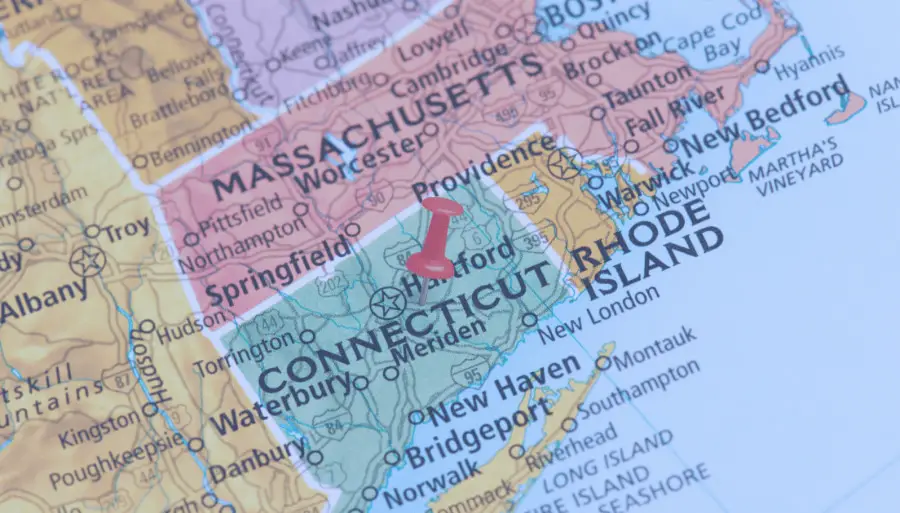 Connecticut sex offender laws are slightly different from those in most US states. The Constitution State follows Megan's law, requiring mandatory registration for a period of time or forever, and makes all sex offender information available to the public. Below you can find a full breakdown of the Connecticut sex offender registry laws and other restrictions explained in easy-to-understand language.
Connecticut Sex Offender Registry Laws
Sex offender statistics show that Connecticut is home to some 5,980 registered sex offenders as of 2022 and has a rate of 166 registered offenders per 100,000 residents. The state established the first set of rules for sex offenders in Connecticut in 1994. Still, the most significant changes happened after October 1st, 1998, when the list of crimes that require registration was expanded, information about sex offenders was made public, and notification rules were established.
A sex offender in Connecticut is anyone convicted of a sex crime or not found guilty due to mental illness. Unlike other states that recognize three sex offender tiers, there are four categories of crimes that require registration in Connecticut:
Non-violent sex offenses
Individuals convicted for non-violent sex offenses are required to report for ten years. Second offenses will result in a lifetime registration.
Sex offenses against minors
People sentenced for sex offenses against minors must register for ten years. Second offenses will require lifetime registration.
Sexually violent offenses
Those convicted for sexually violent offenses must remain on the registry for life, even if it's their first-ever offense.
Other sexually motivated felonies
The definition of a sex offender in Connecticut expands to include crimes that involve sexual motivation. Judges can order mandatory sex offender registration for ten years for other felonies if they determine that the crimes had sexual motivation.
Sex offender registration in Connecticut is governed by the Department of Emergency Services and Public Safety, an institution that is a division of the Connecticut State Police. Sex offenders should provide the following information upon registration:
Name and aliases
Current address
Photograph
Identifying factors like tattoos and scars
Online identifiers used on social media and other internet platforms
Email addresses
The sex crime that got them on the registry and other criminal records
The date and place of conviction and amount of time spent in prison
Inmate number
DNA sample
Palm prints, fingerprints, and SPBI numbers.
According to sex offender laws in Connecticut, offenders must register within three working days from release and report any changes in the above information, including their whereabouts, school enrolment, and workplaces, within the same timeframe. Address verification is performed every 90 days by non-forwardable mail.
The Connecticut sexual offender registry makes offenders' names, addresses, photographs, sex crimes, and other personal information available to the public, as Megan's Law requires. Unlike some states that keep lower-risk offenders on the registry without exposing their information to the public, all sex offenders' information, no matter the severity of their crimes, is available for everyone to see. In very limited instances, the court might order the Department of Emergency Services and Public Protection to keep the information in their records but restrict it from public view.
Connecticut Juvenile Sex Offender Registration Laws
Connecticut is one of the 15 jurisdictions that doesn't require juveniles to register as sex offenders. The lack of Connecticut sex offender registration laws for juveniles doesn't mean that every underage offender can get away without registration. Juveniles tried and convicted in adult court are excluded from the Connecticut juvenile sex offender laws and are required to register as adults.
Removal From the Connecticut Sexual Offender Registry
Sex offenders in Connecticut can get removed from the registry in limited instances, which include having the conviction reversed, vacated, or set aside, or getting a pardon of innocence.
That said, offenders required to register for life have little to no chance of getting off the registry. Those required to register for ten years can petition the court for removal after completing the mandatory registration period of one decade and only if they have complied with all CT sex offender laws and restrictions. These individuals must prove to the court that they aren't a threat to public safety and deserve to rebuild their life off the registry. The victims may be notified and asked to appear in court to give a statement about the offender. Their statement will heavily influence the judge's decision.
Removal from the CT sex offender list could be life-changing for lower-risk offenders who lose education, employment, housing, and other opportunities due to their status, which appears on background checks and the stigma associated with it.
Rape and sexual assault statistics show that Connecticut has the second-lowest rape rate in the US, with 17 victims per 100,000 residents, indicating that most of the offenders on the list are low-risk offenders.
Connecticut Sex Offender Notification Laws
According to CT sex offender laws, local police departments, the Judicial Branch, or State Police Troop in Connecticut can notify any private organization, government institution, or individual of the presence of a sex offender when they consider a notification is necessary to protect an individual's safety or the public.
Notification of Law Enforcement
The DESPP first notifies the local police department or state police troop where the registrant resides or intends to reside. If the offender is employed or enrolled in school, the DESPP will also notify the law enforcement agency with jurisdiction over the concerned institution.
Notification of Schools
Pedophile statistics show that Connecticut has 51 victims of child sex abuse per 100,000 residents. To protect the youngest and most vulnerable categories, the DESPP notifies the superintendent or the school district where the offender resides or intends to establish a residence. The notification typically takes place via email and contains the same information publicly available through the Connecticut sex offender registry.
Notification of Municipal Chief Executive Officers
The DESPP must prepare an email with the same information available through the sex registry website to notify the municipality's chief executive officer (CEO) when a sex offender:
Is released into the community
Changes address
Resides or plans to establish a residence in the CEO's municipality.
Connecticut Sex Offender Residency Restrictions
Connecticut is not among the states that have special residency restrictions in place. The lack of rules regarding housing, however, doesn't make it easier for sex offenders to find stable housing options, as most landlords nowadays rely on tenant screening to find trustworthy tenants.
According to Connecticut sex offender laws, offenders on probation or parole must seek approval for their residence from their probation or parole officers. The officers in charge must consider the following factors before deciding whether to approve a location or not:
The location's proximity and potential access to the offender's target group
The offender's sexual assault history
Other people of the residence
Accessibility to family members, friends, and supportive services
Whether the residence is considered a potential trigger for reoffending
Whether the residence reduces the chance of becoming homeless.
Courts can also impose residency and other conditions when sentencing the offender.
Sex Offender Work Restrictions
The sex offender laws in Connecticut don't specify what roles sex offenders can't take, except that they should report any changes in employment within five working days. Incarceration statistics show that former felons generally face more significant difficulties in landing stable jobs. Appearance on the state of CT sex offender registry, however, means significantly reduced chances for employment.
Most employers conduct pre-employment screening and typically move on to the next candidate if they receive problematic results. Some job positions also demand offenders to disclose their convictions before hiring.
While sex offenders have zero chance of getting some jobs, industries like Construction, Food Service, and Trucking care less about criminal background checks and often hire people who are on the CT sex offender registry and other former felons.
Connecticut Sex Offender Travel Restrictions
Offenders can travel in and out of Connecticut but must respect specific protocols. According to the Connecticut visiting sex offender laws, sex offenders visiting Connecticut for less than three days are required to provide contact info. Those intending to stay for longer must register as sex offenders in Connecticut "without undue delay."
Connecticut sex offenders are allowed to travel or move outside the state, but they must respect the sex offender laws in whichever state they're going. Offenders on probation must get permission in advance from the judge of their case and their probation officer if they want to travel outside of the eight counties that compose Connecticut.
Failure to Register on the CT Sex Offender List Penalties
Failure to register on the Connecticut sexual offender registry within three working days from release from custody or report any changes (name, address, etc.) within five days is a Class D felony punishable by up to five years prison term and up to $5,000 in fines.
Connecticut Sex Offender Laws FAQs
How long do you have to register as a sex offender in Connecticut?
First-time sex offenders convicted of non-violent sex offenses, sex offenses against minors, and certain sexually-motivated felonies must register for ten years. First-time offenders of sexually-violent crimes and all second-time offenders are required to register for life.
Can you get off a sex offender list CT?
Some offenders can get off the CT sex offender registry in minimal instances. First-time offenders, excluding first-time offenders of sexually violent crimes, can get their convictions reversed, vacated, set aside, or receive a pardon of innocence.
Can a sex offender live near a school in CT?
CT sex offender laws don't restrict offenders in any way when it comes to where they can establish residences. If you want to check if there are sex offenders near the schools your children attend, you can perform a CT sex offenders search on the registry. People search websites can provide even more detailed records, including criminal history, past and current addresses, vehicle numbers, etc.
How do I get off the sex offender registry in CT?
You could petition the court for removal if you were convicted of a non-violent crime or crime against a minor that initially required a minimum of 10 years of registration. The court will revise your case, call the victim to give a statement, and decide whether you have strong evidence that you are not harmful to society, among other factors. You can apply for removal once you complete the mandatory registration period without committing a new offense and while respecting all Connecticut sex offender laws and restrictions.