Arizona Sex Offender Laws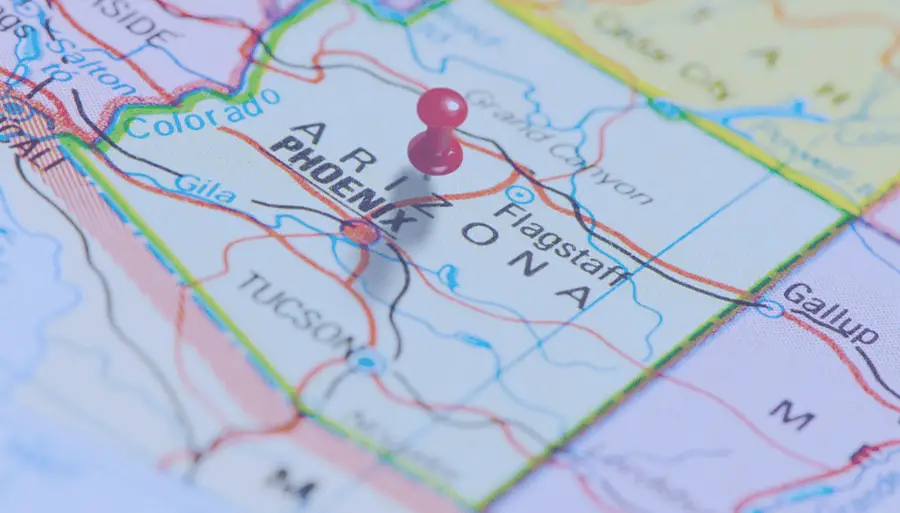 The act of becoming an Arizona registered sex offender has life-altering consequences. Individuals convicted of certain sex crimes are required to register on the list for life unless they were younger than 18 when they committed the criminal act. Below, we'll cover every aspect of the Arizona sex offender laws.
Arizona Sex Offender Registration Requirements
The sexual offender registry in Arizona is a database of convicted sexual offenders residing, working, or studying in the state. Its purpose is to protect the general public from potentially dangerous individuals and alert prospective employers. This way, employers don't necessarily have to wait for criminal background check results to know if they are dealing with a registered sex offender.
According to the Arizona sex offender laws and Megan's law in Arizona, the following crimes require people to register on the list:
Unlawful imprisonment of victims under 18 years of age;
Kidnapping victims younger than 18 years of age;
Sexual abuse involving a victim younger than 18 years;
Sexual conduct with a minor;
Sexual assault;
Sexual assault of a spouse;
Child molestation;
Repeated child sexual abuse;
Child prostitution or child sex trafficking involving prostitution;
Sexual exploitation, commercial sexual exploitation of a minor, luring a minor for sexual exploitation, or aggravated luring a minor for sexual exploitation;
Unlawful age misrepresentation;
Second or repeated violation of indecent exposure to people younger than 15 years;
Third or repeated violation of public sexual indecency;
Failure to register as a sexual offender.
Registrations must be made in person with the following information:
Electronic fingerprint
Names and aliases
Online identifiers such as an email address or screen name
Up-to-date photograph
Blood sample
Mailing address
The Arizona Department of Corrections must update the registration with the DPS and the county sheriff before release. After release, the Arizona Department of Corrections has three days to pass the registration records to the Department of Public Safety and the sheriff of the county where the offender lives or intends to move.
Sexual offenders in Arizona have ten days after conviction to complete their registration. Upon the initial registration, each offender has to pay a $250 registration fee and a $100 annual fee each year after that. Arizona registered sex offenders must re-register annually to keep their information updated. According to sex offender laws, sex offenders can remain on the state registry indefinitely.
Offenders, including first-time ones who commit sex crimes that involve serious bodily harm or victims under 12 years of age, are subject to the Arizona sex offender laws regarding life sentence cases.
Arizona Sex Offender Notification Laws
When a sex offender or a sexually violent person is released from prison and registered on the AZ sex offenders registry, the community gets alerted about their presence. The notification process is governed by the Community of Notification Guidelines Committee, which consists of probation officers, chiefs of police, sheriffs, county attornies, and legislators. The guidelines cover three Arizona sex offender levels of notification based on the risk of reoffending, with level one being the least likely to commit another sex crime and level three carrying the highest likelihood of reoffending. Pedophile statistics, for instance, show a high likelihood of reoffending among this group.
The notification level of each offender is assigned upon an Arizona sex offender risk assessment conducted by the local law enforcement agencies. The notification requirements for the three sex offender tiers are as follows:
Level 1 sex offender in Arizona — the local law enforcement agency must keep up-to-date information and share it with other law enforcement agencies if needed. Notification may be provided to the people with whom the offender resides or if the offender fails to register. Missed registration results in an arrest warrant.
Level 2 sex offender in Arizona — immediate neighbors, schools, selected community groups, and prospective employers will receive a notification. The notification process may include a flyer with the offender's photo, the address of the general area where the offender resides, and a brief of their status and criminal background.
Level 3 sex offender in Arizona — the authorities notify the surrounding neighborhoods, selected community groups, and prospective employers. Flyers with the sex offender's photo, address, and a summary of their status and criminal background are distributed across the community. Additionally, local media services give a press release on the offender. In case a level three offender fails to register, authorities issue an arrest warrant and notify the community.
Arizona Sex Offender Laws for Driver's License
Unlike the general public, which renews their driver's license every five years and their photo every twelve years, the Arizona Motor Vehicle Department gives offenders a special driver's license that must be renewed every year, obligating them to provide proof of their current address and renew their photo.
Arizona Sex Offender Residency Restrictions
Arizona sex offender laws forbid the "clustering" of registered sex offenders in one area, meaning that sex offenders on probation in Arizona can't surpass 10% of the total number of units in a multifamily dwelling in counties with more than 2.5 million people. Furthermore, only one level three sex offender on probation can reside in a multifamily dwelling. Level three offenders face additional residency restrictions even after their probation period has ended.
Those who have committed a serious crime against children are not allowed to reside within 1,000 feet of schools or childcare facilities in Arizona. The law also prohibits offenders from living within 1,000 feet of the residence of their victim, except if they receive written consent from their victim. Aside from the laws, landlords are reluctant to allow sex offenders on their properties. With tenant screening checks becoming the norm, sex offenders face significant challenges in securing stable housing.
Arizona Sex Offender Work Restrictions
When it comes to sexual offenders, in Arizona, the law doesn't specify which jobs sex offenders can't work but building a career in any field as a convicted sex offender is very challenging. Unlike other crimes that show on background checks for a limited number of years, sex offenses, in most cases, stay for life. As mentioned above, the Arizona law enforcement agencies notify prospective employers for level two and three sex offenders. With offenders prohibited from leaving or visiting residences in child safety areas like parks, schools, athletic centers, youth centers, and daycare centers, they can't work in those areas either.
Arizona Sex Offender Travel Laws
Sex offender statistics show that registered sex offenders frequently travel, especially in the search for a job, as it's challenging for them to find a stable source of income. A sex offender moving to Arizona for more than ten days is required to register. Failure to register will result in a Class 4 felony offense. Offenders are also required to register as transients every 90 days with the county sheriff.
Failure to Register Penalties
In Arizona, failure to register as a sex offender is a class 4 felony. Penalties range from 1.5 to 16 years of jail or prison to lifetime probation.
How to Get Removed From the Sex Offender Registry in Arizona
It is tough to get your name removed from the Arizona sex offender website. Registered sex offenders can, however, apply to get their charges diminished or dismissed, but only if they have been convicted for a less serious offense such as indecent exposure. Removal from the AZ sex offender registry is possible in very rare instances. The offender can petition the court for termination of the duty to register after completing the term of probation in the following cases:
The offender is at least 35 years old at the time of the filing of the petition and was younger than 22 years when the offense was committed.
The victim was at least 15 years old when the offense was committed, was a peace officer posing as a 15, 16, or 17-year-old minor, or was a fictitious minor purported to be 15, 16, or 17 years of age.
If the sexual conduct was consensual.
The offender completed the probation without violating any of its terms.
The offender hasn't committed another offense for at least ten years after the date of sentencing.
The defendant isn't classified as a sexually violent person.
The offense did not involve more than one victim.
The defendant was not sentenced to a term of imprisonment in the state department of corrections for the offense that led to registration on the sex offender's list.
The defendant has not been convicted more than once, involving more than one victim.
The sex offender was not convicted of a violation or attempted violation of the following sections: 13-1406, 13-1410, 13-1417, 13-1423, 13-3206, 13-3212, and 13-3553.
Arizona Sex Offender Laws FAQs
How do I look up sex offenders in Arizona?
Nationwide and in Arizona, sex offender search by name is possible through the National Sex Offender Public website. Here, you can also find sexual offenders by location.
What is a level 2 sex offender in AZ?
Individuals that carry a moderate risk of reoffending are classified as Level 2 sex offenders in Arizona. The public can find their details on the Arizona sexual offenders list. They are also subject to community notification.
How long do sex offenders have to register in Arizona?
Arizona sex offender laws require sex offenders to register for life in most cases.