Firearm Sales Statistics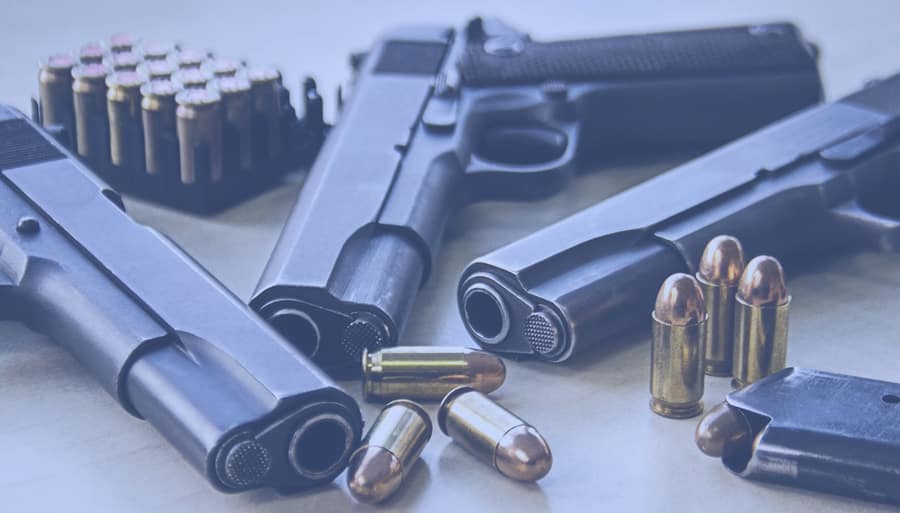 Few things seem as sacred for Americans as the Second Amendment. In times of crisis, people buy more guns, and it seems that the global pandemic and civil unrest in 2020 were no exception. We prepared a list of the most important firearm sales statistics to give you an insight into the industry, trends, and sentiments in American society.
Firearm Sales Statistics (Editor's Choice)
39.7 million firearm background checks were conducted in 2020.
42% of American households are home to one or multiple guns.
An estimated 23 million firearms were sold in the US in 2020.
There are about 2,000 illegal arms dealers operating in the US.
43% of convicted criminals used black market firearms in 2019.
The online gun and ammunition industry is worth $2.2 billion.
Upwards of 15 million AR-15 style rifles are owned in the US.
General Gun Sales Statistics
1. The NICS conducted 39.7 million firearm background checks in 2020.
Similar to employers conducting pre-employment background checks to ensure they invite trustworthy people on their teams, the National Instant Criminal Background Check System checks firearm applicants for any red flags that may indicate they are prohibited from possessing guns. The NCIS reported a record-high 39,695,313 background checks for the purchase of firearms nationwide. This is 11 million more than in 2019. For the first eight months of 2021, the checks stand at almost 28 million. While these checks don't reflect the exact number of gun sales in the US, they give a general idea about market trends.
(FBI)
2. Smith & Wesson more than doubled their net sales for the financial quarter ending Jan 31, 2021.
The firearms manufacturing giant has capitalized very well on the uncertainty and surge in gun sales over the COVID-19 pandemic and doubled the number of net sales from the same quarter last year. The gun purchase statistics presented in this quarterly report show record quarterly net sales of $257.6 million, marking an increase of 102.2% compared to the prior-year period.
(Smith & Wesson Brands, Inc.)
3. Around 42% of all American households own one or more guns.
That figure shouldn't come as much of a surprise, given the cultural significance of guns to Americans. This significance, however, coexists with stark opposition to gun ownership on account of the multiple instances of gun violence and mass shootings stateside. Stats further show that 36% of those who are 65 years or older own a gun. As many as 31% of those with high school education or less also possess a firearm.
(Statista)
Gun Sales Statistics by Year
4. A record 23 million guns are estimated to have been sold in 2020.
The Brady Center to Prevent Gun Violence estimates that about 23 million firearms were sold during 2020. The NPO recorded the highest estimate ever made for gun purchases by year using filtered data and analyzing the discrepancies between checks and successful applications for permits.
(Brady)
5. 2016 was the previous record-breaking year for the number of guns sold per year.
Prior to 2020, 2016 saw a massive 27.5 million background checks. Annual gun sales statistics meanwhile indicate that about 16.6 million firearms were sold in 2016. At the time, experts cited Hillary Clinton's bid for the presidency, with her stance on gun control prompting Americans to stock up.
(NICS, The Guardian)
6. Gun sales dropped in 2017 and 2018 amid the "Trump Slump."
Following the record-breaking 2016, the election of former President Donald Trump pushed gun sales lower. Gun sales statistics provided by the National Shooting Sports Foundation show that 2018 sales came in at 13.1 million, down from 14 million in 2017. These stats on US gun sales by year underscore the trend that pro-gun administration provides no boost for the industry, while those politicians who seek greater control in fact fuel firearm sales. It's no wonder that former President Barack Obama, whose presidency was marked by heightened expectations of gun control laws, was dubbed "the best gun salesman on the planet."
(Reuters, The Guardian)
Illegal Gun Sales Statistics
7. Research suggests that as many as 2,000 illegal firearms dealers operate in the US.
These dealers and pawnbrokers fail to keep records, make false entries, sell to prohibited buyers, and even make illegal transfers to other states, criminal record statistics show. The research has further found that half of the retail gun dealers would not be opposed to making legally questionable weapon sales.
(Giffords Law Center)
8. Most convicted criminals buy their weapons on the black market.
Incarceration statistics and black market gun sales statistics from a 2019 Department of Justice study show that 43% of prisoners who used a gun during their offense acquired it from the underground market or off-the-street. Other sources included stealing the firearm and having obtained it at the place of the crime.
(BJS)
9. Around 30,000 'straw purchases' are attempted every year in the US.
Straw purchasing is the act of buying a firearm on someone else's behalf. A survey shows that around 30,000 such purchases are attempted every year. Another survey meanwhile uncovered that more than two-thirds of gun dealers have experienced at least one attempted straw purchase over the year prior to the survey. A straw purchase is a federal crime, meaning that people who attempt it and get caught will have these acts on their criminal background checks and seriously damage their chances of employment.
(Giffords Law Center)
Gun Sales Statistics by Type of Firearm
10. There are upward of 15 million AR-15 owners in the US.
The AR-15 is a lightweight semi-automatic rifle, commonly used for hunting and shooting competitions due to its reliability and accuracy. Dubbed "America's rifle', the AR-15 and its variants have been associated with some of the deadliest mass shootings across the US, prompting calls for bans on the civilian market. Meanwhile, some experts argue that despite its reputation, the AR-15 is responsible for a tiny proportion of the nation's gun violence.
(NBC News)
11. AR-15 sales spike during times of renewed calls for banning the rifle.
While AR-15 sales statistics are hard to come by since this is the umbrella term for a range of semi-automatic rifles by different manufacturers, data suggests that more people purchase this type of weapon when lawmakers talk about banning it. Depending on the exact type and manufacturer, the AR-15 usually goes for less than $1,000.
(NPR)
12. Handguns were the most popular firearm over 2019-2020, firearm sales statistics by type show.
Weapons sales data shows that for every month between January 2019 and October 2020, handguns were more popular than long guns. About 568,000 handguns were sold in January 2019, compared to 382,000 long-gun firearms for the same month. March 2020 saw a spike in the sales of firearms to about 1.5 million handguns and 836,000 handguns, while in October 2020, one million handguns and 740,000 long guns were sold.
(Statista)
Ammunition Sales Statistics
13. The online gun and ammunition industry is worth $2.2 billion.
The internet has given gun enthusiasts access to just about any ammunition available and, in most cases, shipped to their door within a day. The online ammunition market has become a massive business. Analysts predict that the market will experience even more growth by the end of 2021, with an estimated increase of 7.2%.
(IBISWorld)
14. A major ammunition outfit saw a 125% surge in revenue between March and June 2020.
Ammo Inc. in Arizona claims its revenues hit $9.7 million in the months leading up to June 2020, when firearm sales statistics were at their peak following the arrival of the pandemic. According to one senior figure at the company, the sale of AR-15 ammunition was a significant contributor to the rising figures, with semi-automatic handgun ammunition also being very popular. Hunting, sports shooting, and self-defense were cited among the most common reasons for these purchases.
(Financial Times)
15. The small caliber ammunition market in the US was valued at $2.35 billion in 2018.
The small caliber market has also experienced a boom alongside rifles and other semi-automatic guns. This is believed to be due to a surge of interest in shooting clubs and sports shooting programs. Ammunition sales statistics by caliber show that the small caliber ammunition is segmented into 22 LR, 223 Remington, 308 Winchester, 9mm Luger, 357 Magnum, 45 Auto/ACP, 380 ACP, 40 S&W, and 38 Special, among others. And in the handgun sales stakes, it's the 9mm Luger with the highest market share, thanks to its versatility.
(Fortune Business Insights)
Firearm Industry Statistics
16. The manufacturing of firearms in the US reached an all-time high in 2016.
Estimates suggest companies produced as many as 11.5 million guns resulting in a record-breaking period for firearm industry revenue streams. Production has slowed year-on-year since 2016, with a 28% drop in 2017 and a 25% drop in 2018 amid the 'Trump slump.'
(Center for American Progress)
17. Pistols and rifles account for over half of the total number of guns manufactured.
According to recent firearm industry statistics, pistols (3,881,158) and rifles (2,880,536) are produced in far greater numbers than any other type of firearm, and companies who make these guns have reaped significant rewards. Shotguns, revolvers, and other guns make up the rest of the production line and are still hugely popular in the shooting community. But the sporting and self-defense application of rifles and pistols puts them well clear in terms of volume.
(Statista)
FBI, Smith & Wesson Brands, Inc., Statista, Brady, NICS, The Guardian, Reuters, The Guardian, Giffords Law Center, BJS, NBC News, NPR, Statista, IBISWorld, Financial Times, Fortune Business Insights, Center for American Progress, Statista, NRA-ILA, FOX Business, World Population Review